Local Council Award Scheme
The Award demonstrates recognition and respect of the commitment and hard work of the councillors and officers to ensure that it has in place  the required documentation and information to operate lawfully and  according to standard practice and ensures that the council is delivering to  a national professional standard.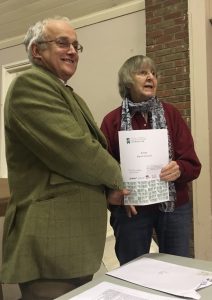 Photograph shows the Parish Council Chairman (Mr. P. Kirton) being presented with the Local Council Award Scheme's Certificate at our January 2017 meeting.
Our 4 year accreditation at Foundation level expired at the end of 2020 and we are currently working on renewing this by way of submitting a new application.
There were changes made to the process at the beginning of 2021 and these are being incorporated into our presentation.
(The Local Council Award Scheme has replaced the Quality Council award – status to which was obtained by the Parish Council in 2011).